INTRODUCING THE KTM 1390 SUPER DUKE R – THE BEAST, REBORN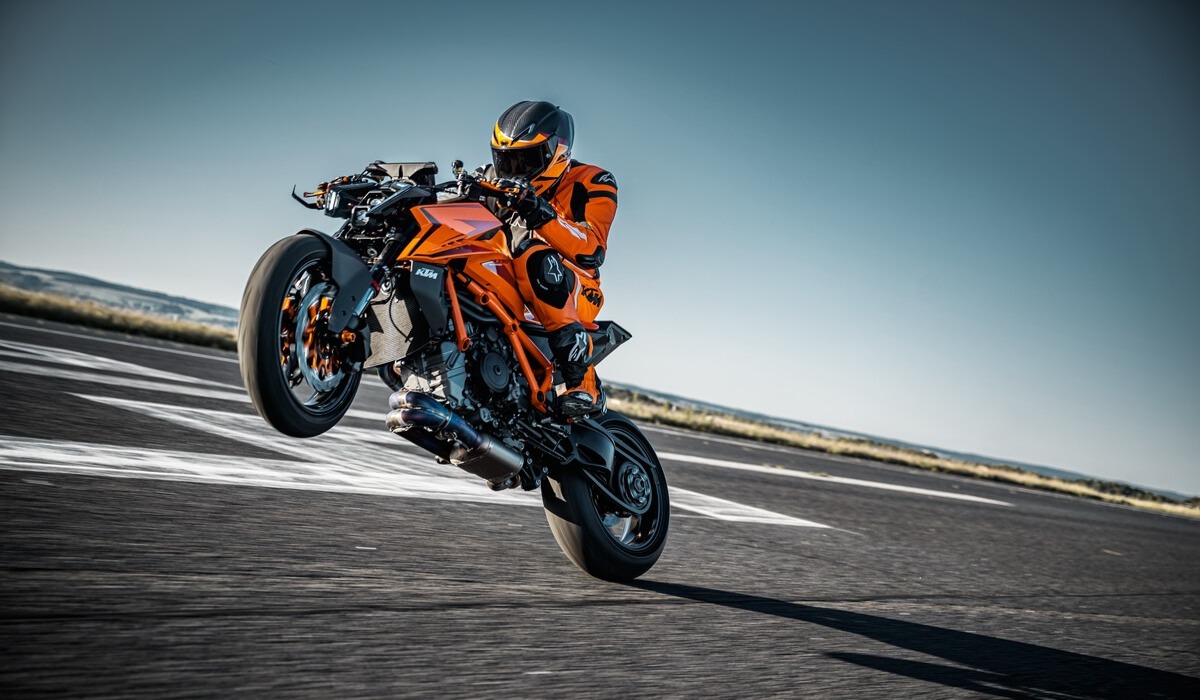 The 2024 KTM 1390 SUPER DUKE R and KTM 1390 SUPER DUKE R EVO have erupted into the Naked segment without warning, sending a clear message to the competition: there is a new BEAST on the prowl.
With 2024 marking 30 YEARS OF DUKE, the all-new KTM 1390 SUPER DUKE R and its high-tech stablemate – the KTM 1390 SUPER DUKE R EVO – have evolved into their most fearsome iterations yet.  
The numbers tell the story – 1,350 cc, 190 Hp at 10,000 rpm and 145 Nm of torque at 8,000 rpm, ripping into the tarmac with pure ferocity and a new, more aggressive look to match. Impressive figures aside however, it is its effectiveness at getting power to the ground that makes it even more potent.  
For 2024, THE BEAST has undergone a striking aposematic evolution, sending a clear warning message to anyone brave enough to take it on. An all-new LED headlight unit dominates, with new tank spoilers and added winglets making it known that it is not to be messed with. A further reduced subframe cover eliminates the brake light making for an even sharper look and riding experience. With a lower overall profile and more emphasis placed on the compact chassis, the KTM 1390 SUPER DUKE R looks more muscular and aggressive than ever before. In short, KTM upped the attitude by lowering the altitude.
A redesigned air intake and airbox see a revised fuel tank with an overall tank capacity of 17.5 litres – an increase of 1.5 litres over its predecessor. This not only takes the riding range up to around 300 km / 185 miles but also performs an important ergonomic function. In the hunt for grams, every panel has been calculated for optimum thickness and minimised where possible, with new tank spoilers and added winglets increasing downforce.
However, it is the lightweight and 'smart' headlight design that makes the biggest visual impact. Weighing in at nearly 700 g less than the previous unit and boasting an alien-like design, it adds an all-new aggressive glare to the KTM 1390 SUPER DUKE R. Position and daytime running lights are located on the profile of the headlight, which auto-adjusts in intensity according to ambient light conditions.
Additionally, the KTM 1390 SUPER DUKE R and KTM 1390 SUPER DUKE R EVO are fitted with Coming Home light functionality as standard. Here, the headlight will remain on for a short period of time after the ignition has been switched off, allowing for greater ambient visibility. This not only illuminates the surroundings but provides a level of safety when parking in dark areas.
Backing up its muscular stance, at the heart of this ferocious BEAST sits an enlarged powerplant – an updated version of the LC8 – further marking its territory as the alpha. The bore is increased to 110 mm to achieve an engine displacement of 1,350 cc, with an all-new cam shift integrated on the cylinder heads. This provides more power and torque throughout the rpm range and allows for a more differentiated fuel mapping to meet the latest EURO 5+ emission regulations.  
Getting that power to the ground comes courtesy of new, lightweight MICHELIN Power GP tyres with dual-compound technology, as well as a new WP APEX shock absorber which is fully adjustable, allowing for separate high and low speed adjustments, rebound and toolless pre-load adjustment. Improved DCC settings provide better pressure balance resulting in less compromise between suspension comfort and performance, while new 48 mm WP APEX Open Cartridge forks with split function provide optimised settings.  
On the KTM 1390 SUPER DUKE R EVO however, the suspension management is taken to an all-new level with the latest generation of WP Semi-Active Technology (SAT). As the most advanced suspension system on the market, it features electronically controlled magnetic valves for variable damping, providing a wide range of adjustability – from maximum comfort to track-ready stiffness. Here, the SCU (Suspension Control Unit) adapts the damping rates via the magnetic valves in real-time, reading the road surface and rider style to automatically adjust the suspension on the fly. 
The technology feast doesn't end there, with both the KTM 1390 SUPER DUKE R and KTM 1390 SUPER DUKE R EVO debuting updated PERFORMANCE and TRACK MODES, complete with lap timer and telemetry stats, as well as optional ENGINE BRAKE CONTROL and an updated SUSPENSION PRO module for the KTM 1390 SUPER DUKE R EVO. 
The KTM 1390 SUPER DUKE R and KTM 1390 SUPER DUKE R EVO are available in select 30 YEARS OF DUKE colourways, reminiscent of the orange scheme found on the 2005 KTM 990 SUPER DUKE. Both 2024 models will be available from January 2024 onwards, UK pricing below:
2024 KTM 1390 SUPER DUKE R – £17,999 OTR
2024 KTM 1390 SUPER DUKE R EVO – £19,599 OTR
 A full range of specially developed KTM PowerParts and KTM PowerWear are available for riders to personalise their motorcycles and get themselves kitted up in READY TO RACE gear, both functional and casual.
KTM will also be giving away a brand new KTM 1390 SUPER DUKE R towards the end of the year. Entrants are encouraged to visit KTM.com to sign up for the KTM newsletter and be entered into the lucky draw.  
THE 2024 KTM 990 DUKE HITS THE BULLSEYE WITH SNIPER-LIKE ACCURACY
Heralding a massive leap forward for the KTM Naked range, the all-new KTM 990 DUKE takes aim directly at the coveted 1000 Naked bike segment, pulling no punches!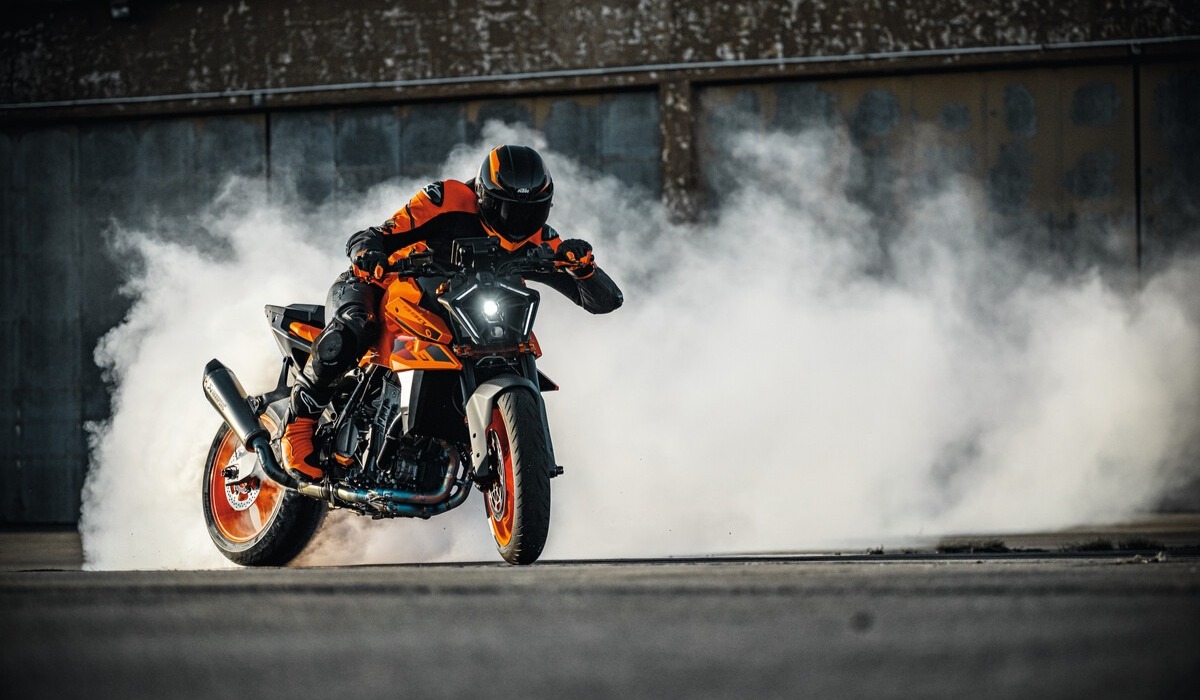 With 2024 marking 30 YEARS OF DUKE, the all-new KTM 990 DUKE slots into the line-up like a well-polished round in the chamber. In its quest to be the most performance-focused NAKED machine possible, the KTM 990 DUKE ticks all the right boxes mechanically, while deploying extreme new styling.
The KTM 990 DUKE makes its intentions perfectly clear. Apart from a blisteringly potent engine, an all-new chassis and swingarm design – not to mention updated ergonomics and technology – it now sizes up to larger capacity motorcycles in both displacement and proportions.
Side-on, the new design has been modelled around the concept of an explosion in a freeze-frame, harnessing extreme energy ready to be released. This new design is further enhanced by two colourway options; Black and Electric Orange – the latter being reminiscent of the Naked models of a bygone era, developed specifically to celebrate 30 YEARS OF DUKE.
At the face of it, predatory design meets reduced styling with its evolved LED headlight being a stand-out feature of the all-new KTM 990 DUKE. Constructed from a carefully chosen mix of materials, the new design ensures lighting stability in all road conditions. Position and daytime running lights are located on the profile of the headlight, which also auto-adjusts in intensity according to ambient light conditions thanks to a light sensor integrated into the dashboard.
Additionally, the KTM 990 DUKE is fitted with a Coming Home light function as standard. Here, the headlight will remain on after the ignition has been switched off, awarding the rider with a few seconds of light to open doors or for better visibility in the garage.
Power is taken care of by a dramatically updated version of the LC8c engine found in the KTM 890 DUKE R. Boasting 947 cc, the roaring heart of the KTM 990 DUKE receives new pistons, crankshaft and conrod, producing a fire-breathing 123 HP and 103 Nm, with a total motorcycle weight of only 179 kg, ready to ride.
The KTM 990 DUKE takes its DNA from the long lineage of hard-hitting DUKE models that have come before it, adding more verve and aggression for 2024. It is a performance-oriented machine at its core, designed around a lightweight, flickable chassis that inspires utmost rider confidence.
In typical DUKE fashion, a stiff trellis frame and a new closed-lattice swingarm come together to welcome high-quality adjustable WP APEX Suspension components. These, together with track-proven Bridgestone S22 tyres, provide SNIPER-like accuracy when it comes to cornering stability.
The WP APEX Suspension fitted to the KTM 990 DUKE features easy-to-adjust settings, encouraging the rider to push the limits comfortably. Upfront, the 43 mm WP APEX Suspension can be easily and accurately dialed in with 5 clicks on both rebound and compression. On the rear, the WP APEX Monotube shock absorber can be adjusted in 5-clicks, with manual preload adjustment also possible.
Once seated, riders are greeted by a 5-inch, anti-scratch bonded glass dashboard providing all the information a KTM 990 DUKE pilot could need. Revised graphics and menu structures are designed for faster, more intuitive access to the various features of the KTM 990 DUKE. This includes a new function that displays Lean Angle data, with an optional TRACK Mode complete with lap timer and telemetry stats. A USB-C connection is also added for device charging duties.
In short, the brief was simple; develop the ultimate mid-class NAKED machine. In achieving this, the 2024 KTM 990 DUKE hits the mark dead centre.
A full range of specially developed KTM PowerParts and KTM PowerWear are available for riders to personalise their motorcycles and get themselves kitted up in READY TO RACE performance.
The 2024 KTM 990 DUKE will be available from February 2024 onwards, for £12,999 OTR.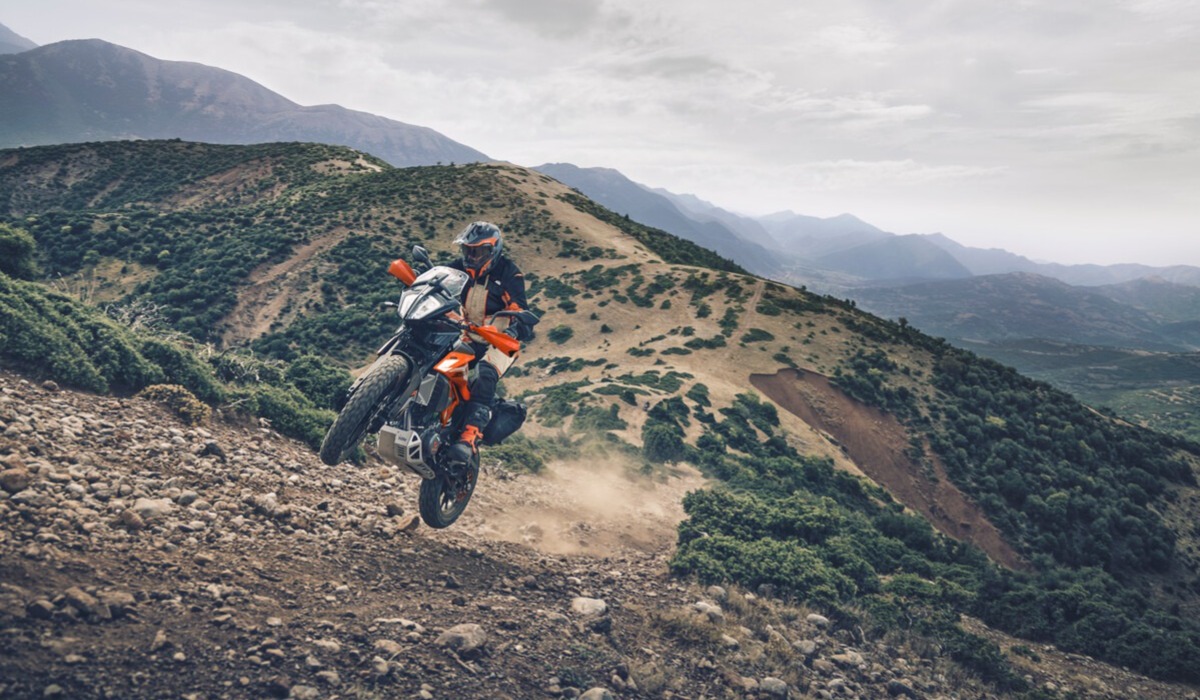 Merging all-road versatility and proven reliability with real-world performance, the KTM 390 ADVENTURE is known for its outstanding power-to-weight ratio, top-shelf technology and overall riding agility. For 2024, it brings the same impressive list of features to the fore, including adventure-ready 19″ front and 17″ rear cast wheels and a proven 373.2 cc powerplant, producing 44hp and 37 Nm.
The KTM 390 ADVENTURE is engineered with the rider in mind and encouraged by its versatile design and ergonomics, riders can charge with confidence down any road they choose. From its rally-style windscreen to its offroad-focused footpegs, all-day riding comfort, supreme offroad agility and unmatched rider involvement, the KTM 390 ADVENTURE is elevated to a class of its own – now more so than ever due two all-new colour combinations for 2024. In typical KTM fashion, a classic core palette of orange and black is joined by a new grey and white colourway. Both colour options perfectly match the KTM 390 ADVENTURE's proportions and give this versatile TRAVEL machine a premium feel whilst remaining durable and resilient when tearing up all terrains.
2024 KTM 390 ADVENTURE highlights:
Class-leading electronics as standard, including OFFROAD Mode
Offroad-ready 19" front, 17" rear tubed cast wheels
44 hp and 37 Nm of torque through the latest Euro 5, 373 cc engine
Lean-angle sensitive ABS & Motorcycle Traction Control as standard
Easily removable steel trellis subframe fitted with just four screws
WP APEX suspension with rebound and compression adjustability for unmatched rider feedback over any terrain
Two channel ABS brakes with 320 mm and 280 mm discs
14.5 litre fuel tank with a possible 400 km range
Excellent ergonomics thanks to the two-part seat and crafted bodywork
Brand new graphics and a fresh look for both 2024 colour versions
The 2024 KTM 390 ADVENTURE will retail at £6,599 OTR and will be available in Authorised KTM Dealers from February 2024.
KTM STEPS UP ITS MINI-CROSS OFFERING
2024 KTM SX 'Minis' hit the track with a completely fresh approach in the development of READY TO RACE motocross machines aimed at grassroots racing.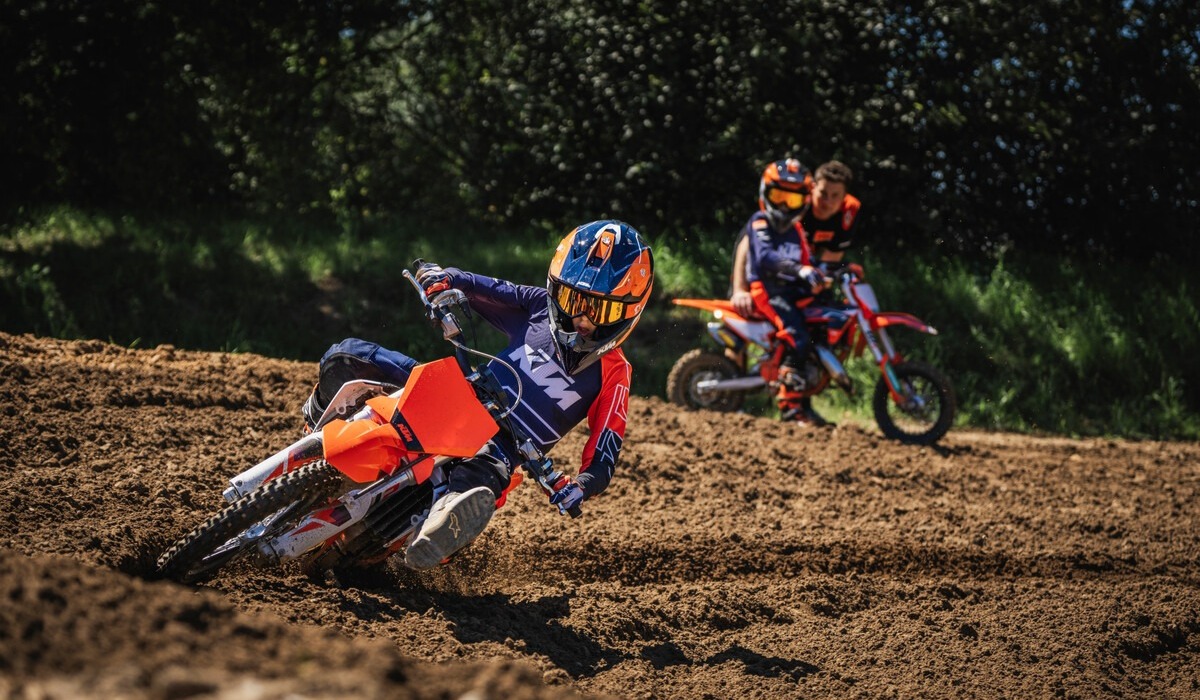 Using scientific data, the 2024 KTM 50 SX has been developed to be as erganomically close to a scaled-down version of a full-size KTM SX machine as possible, with careful consideration given to young riders and body proportions compared to adults. This has been considered in the design and development phases of the 2024 KTM 50 SX as well as all of its components.
Likewise for the first time, the development of the 2024 KTM 65 SX was done in close collaboration with a number of international test riders, who have been successfully racing and testing the different development stages over the last two years. This has resulted in a brace of mini-crossers that not only look like miniature READY TO RACE motocross machines but also share a superior level of quality and attention to detail.
With top-level handling and performance being a critical and essential part of mini-cross, both the 2024 KTM 50 SX and 2024 KTM 65 SX are built around a new, advanced steel frame with a lightweight polyamide glass fibre reinforced steel 2-piece subframe.
This has allowed for a revolutionary change to mini-cross, in that the new frame allows for multi-adjustability to cater for different rider heights. Suspension, handlebar position, bodywork and subframe are now height adjustable to match the growing needs of young riders. Seat height is adjustable between 634 mm to 683 mm for the 2024 KTM 50 SX and 730 mm to 760 mm for the 2024 KTM 65 SX.
Regarding suspension updates, both mini-crossers feature the latest in suspension technology, with a 35 mm USD WP XACT AER fork taking charge at the front. On the rear, an all-new fully adjustable WP XACT monoshock is fitted for perfect balance and damping characteristics, with both models benefiting from revised fitment and geometry.
For model year 2024, the KTM 50 SX FACTORY EDITION will also find its way onto the track, boasting a brace of top-shelf high-performance components over and above the standard 2024 KTM 50 SX spec sheet.
Staying true to its name, the 2024 KTM 50 SX FACTORY EDITION is wrapped in a Red Bull KTM Factory Racing inspired graphics kit, with an orange, high grip diamante KTM FACTORY SEAT. Performance is also upped thanks to a full FMF exhaust system and Iridium BRISK FE-specific spark plug, making it the ideal choice for young up-and-coming champions.
The 2024 KTM Sportminicycle range is the perfect representation of KTM's dedication to mini-cross, with the same amount of energy and attention to detail and created by the same passionate team in Austria who are also in charge of the race-proven full-size models.
The 2024 KTM Sportminicycle range is available to order now from Authorised KTM Dealers, with the first units due to land in UK showrooms from December 2023. Individual model retail prices as below.
KTM 50 SX 2024 – £3,999
KTM 50 SX FACTORY EDITION 2024 – £4,399
KTM 65 SX 2024 – £4,999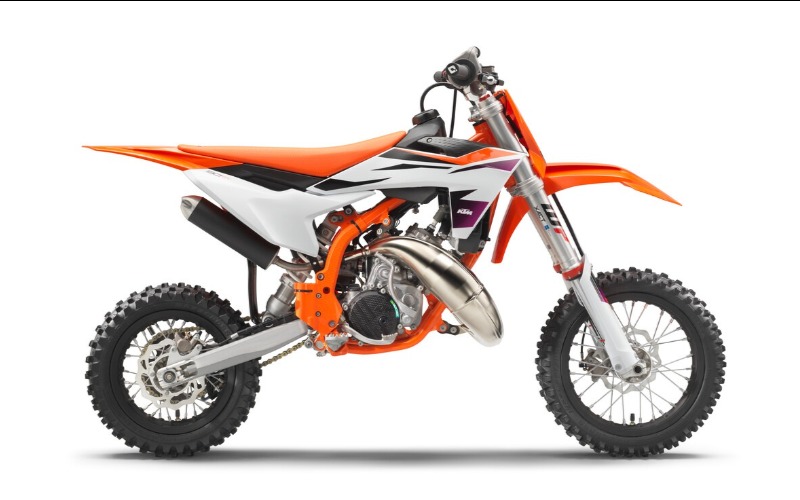 50 SX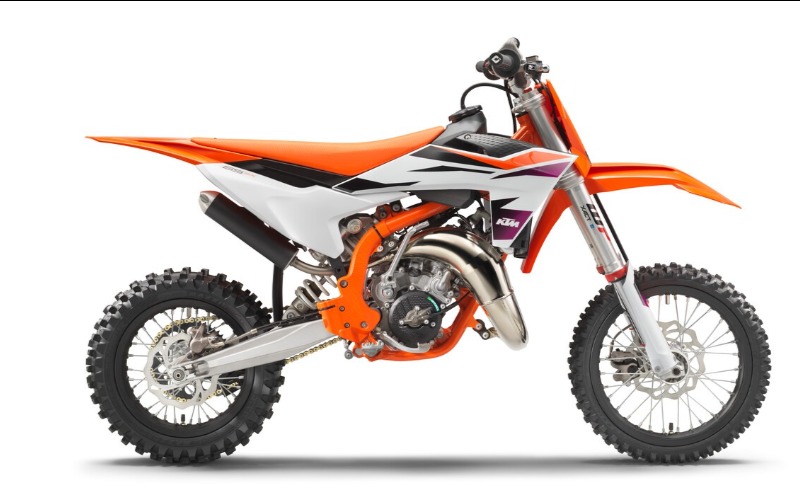 65 SX
ADVENTURE IS CALLING. ARE YOU READY FOR THE CHALLENGE?
Three new colour schemes and countless adventures to enjoy with this off-road competition winner
Prepare to succumb to the spirit of adventure. Canyon Sand expresses the Tuareg's rally soul through the warmth and energy of majestic dunes.  The sleek, deeply dark Atreides Black is ideal for getting down and dirty off-road and on muddy terrains. Rounding out the trio is Dakar Podium, a tribute to the legendary exploits of yesteryear and the enthralling challenges of today and tomorrow.
URBAN RACING
Get sporty around town
Sporting the same aesthetic as the MotoGP Championship star Aprilia RS-GP.
This "urban adventure" scooter with its Aprilia racing soul will have you nipping along, courtesy of its efficient liquid-cooled engine that reduces fuel consumption but ups the thrill factor.
Urban racing: a new way to experience town and beyond
The Aprilia SR GT Replica special edition is destined to rev up the emotions and your lust for adventures not only in town but further afield. With its appealing design and sporty characteristics, it's the ideal scooter if you're after functionality and outstanding performance.
Racing style
The Replica special edition proudly displays its racing world influence. The Aprilia RS-GP lends the new SR GT an eye-catching look with red and purple graphics showcasing the matt black body. The passenger grab handle and spoilers are also finished in matt black, while the Aprilia logo is emblazoned down the side of the scooter. If you want to add an extra touch, you'll find two decals featuring Aprilia's Moto GP riders' numbers in the underseat compartment. Take inspiration from your favourite rider!
High-level performance
The Aprilia SR GT Replica comes in a choice of 125 ABS and 200 ABS. This special edition shares the sporty soul and outstanding performance of the other scooters in the SR GT range, including the exceptional and efficient braking capacity on all types of surfaces.
Accelerate the fun
The no-nonsense body of the Aprilia SR GT Replica makes a statement with its new tyres featuring a sporty road tread and black rims, with the front rim also embellished with red detailing. In short, a scooter designed to enjoy the thrill of the voyage and the rhythm of the city to the max. 
TAKE ON ANY CHALLENGE
WITH THE 2024 EXC SIX DAYS RANGE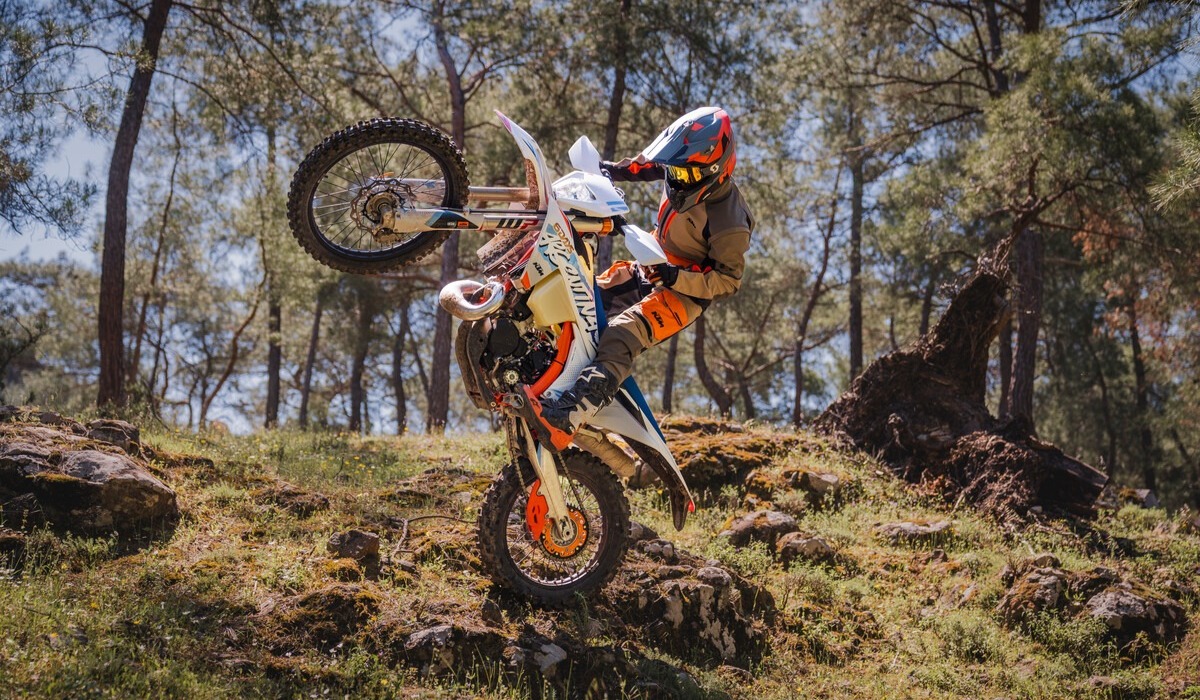 Often referred to as the 'Olympics of Motorcycling' the International Six Days Enduro (ISDE) is the biggest competition on the calendar, with the 2024 KTM SIX DAYS model range flying its flag.
The 2024 KTM SIX DAYS models tear out of the pitlane sporting the Argentinian flag for only the second time in the collaboration's long history. Hundreds of riders and thousands of fans will descend into the wine-making Cuyo region in November 2023, ready to experience six days of flat-out, thrilling racing.
As with the ISDE, the 2024 KTM SIX DAYS range is created to offer riders the ultimate Enduro experience. Benefitting from an almost 95% new chassis, the KTM EXC SIX DAYS range sets itself further apart with an extended list of top-of-the-line components, all specially designed and built for the rigors of the International Six Days Enduro.
Along with an all-new high-gloss orange powder-coated frame, closed-cartridge suspension, refined bodywork, unique SIX DAYS Argentina graphics, and industry-leading technology, the 2024 KTM EXC SIX DAYS range also features the following additional parts list:
Orange frame protectors
SIX DAYS specific seat offering extra grip
Handlebar with specific SIX DAYS bend
Anthracite coated silencer with SIX DAYS logo
GIANT high-strength rims with SIX DAYS logo
Orange-anodised CNC machined triple clamps
Orange front axle puller
Semi-floating front brake disc
Solid rear brake disc
Rear brake safety wire
Orange Supersprox stealth rear sprocket
Orange chain guide
Composite skid plate
Map-select switch
Radiator fan
Metzeler 6 Days Extreme tyres
The 2024 KTM EXC SIX DAYS line-up once again boasts a spread of models, with the KTM 250 EXC SIX DAYS and KTM 300 EXC SIX DAYS taking charge in the 2-stroke stables.
On the 4-stroke side of the pitlane, the ever-present KTM 250 EXC-F SIX DAYS, KTM 350 EXC-F SIX DAYS, KTM 450 EXC-F SIX DAYS and KTM 500 EXC-F SIX DAYS taking top position.
The KTM EXC SIX DAYS range is part of a lineage in a long-standing tradition that now dates back almost twenty years. With over three decades of racing experience and more than 126 World Enduro titles in the trophy cabinet – many of those accrued racing the ISDE –?the 2024 KTM EXC SIX DAYS range is set to continue that trend.
For racers looking for the ultimate challenge, KTM once again offers riders the opportunity to experience the full FACTORY RACING experience, aboard a new generation 2024 SIX DAYS machine, with an all-inclusive rental and service package.
The all-new 2024 KTM EXC SIX DAYS range will be available from June onwards.
UK model pricing*:
KTM 250 EXC SIX DAYS – £10,549.00
KTM 300 EXC SIX DAYS – £10,749.00
KTM 250 EXC-F SIX DAYS – £11,049.00
KTM 350 EXC-F SIX DAYS – £11,249.00
KTM 450 EXC-F SIX DAYS – £11,549.00
KTM 500 EXC-F SIX DAYS – £11,749.00
*Prices include VAT, delivery to dealer and PDI.
CHALLENGE ACCEPTED!
THE 2024 KTM EXC RANGE IS HERE TO REDEFINE LIMITS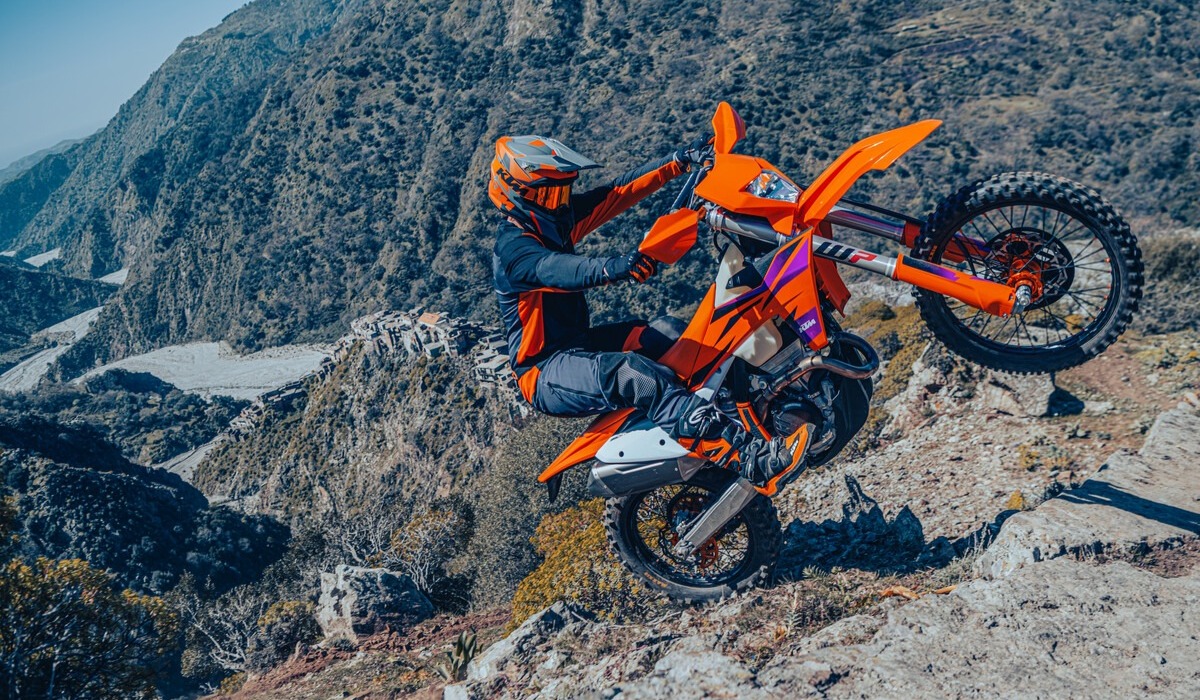 Sporting 95% new components, the 2024 KTM EXC range is moving the goalposts further than ever before. Featuring an all-new frame, revolutionary closed-cartridge suspension, refined bodywork, LED headlight, and industry-defining technology, the latest generation of KTM Enduro machines are ready to accept any challenge.
With over three decades of racing experience and more than 126 World Enduro titles in the trophy cabinet, KTM has remained the weapon of choice when it comes to taking on the world's toughest races. For the 2024 model year, the KTM EXC nameplate continues to raise the bar in the areas of performance, development and innovation with its most radical transformation to date.
An all-new hydro-formed, laser-cut and robot-welded frame forms the backbone of the 2024 KTM Enduro range. This brings new longitudinal and torsional flex parameters for unmatched rider feedback, energy absorption, and straight-line stability to the riding experience but also provides the foundation on which the 2024 model range is built.
Upfront, the KTM EXC and EXC-F range now boast an all-new 48 mm WP XACT Closed Cartridge spring fork, featuring a new mid-valve piston concept that optimises oil flow within the cartridge.
The KTM Enduro models continue to feature the proven PDS shock system, updated for 2024 in the form of a new WP XPLOR PDS rear shock, optimised to work fluidly with the new frame concept.
As an industry first, the suspension at both ends remains fully adjustable for compression and damping by way of hand clickers, without the need for any tools, allowing easy preload adjustability on the rear.
An all-new lightweight 2-piece subframe constructed from a combination of polyamide and reinforced aluminum delivers outstanding handling and rider feedback, as well as remarkable robustness. All electronic components, including an all-new Offroad Control Unit, are fully integrated into the subframe for easy access and improved protection.
More notably, the 2024 KTM EXC range benefits from new bodywork all around. This has been developed with input from the Red Bull KTM Factory Riders to deliver an improved rider triangle for better knee contact, especially when standing on the pegs.
A new front fender design now also features mud-repelling fins for expelling dirt and mud from hitting the rider or radiators, while a new 8.3 litre – 4-stroke – and 8.9 liter – 2-stroke – transparent, polythene (XPE) fuel tanks provide easy fuel level monitoring and complete the bodywork package.
Monitoring the electronics comes courtesy of a totally independent OCU under the seat, which replaces the use of electronic fuses and relays. In the event of any electrical component failure, the outputs are deactivated individually, with the error status of each unit indicated by a red or green LED light. This makes for quick and easy troubleshooting while out on the trail.
In terms of engines, the 2-stroke model range once again takes its place as the leader of the oil-burner paddock, debuting new electronic Throttle Body Injection technology, or TBI for short. It provides levels of ultra-smooth power deivery, reminiscent of carburettor performance, while eliminating the need for re-jetting at different altitudes.
The reed valve case has also received an important design update, with new plastic flaps on the outside of the reed valve case for improved sealing of the intake tract. This new design avoids fuel excess in extreme up or downhill sections, which could lead to the fuelling running rich.
A beneficial side effect of the new electronic fuel injection and the ECU is implementing the new electronic exhaust control, allowing for two different engine maps, selectable via an optional Map Select switch.
The 2024 KTM EXC 2-stroke range will once again consist of the following model line-up:
KTM 150 EXC – £8,949.00
KTM 250 EXC – £9,949.00
KTM 300 EXC – £10,149.00
The 4-stroke model range provides the most concise offering of models. All models in the 4-stroke range benefit from class-winning engines, engineered to deliver massive torque down low with an explosive power delivery at higher RPMs.
An improved centre of gravity was achieved by tilting the engine 2° backward and repositioning the front sprocket 3 mm lower, for greatly improved handling and maneuverability. Together with the benefits of mass centralisation and reduced weight, the anti-squat behavior of the chassis was significantly improved, making for improved traction on extreme inclines and powering out of corners in special enduro stages.
The 2024 KTM EXC-F also debuts the optional addition of Traction Control and for the first time ever on an enduro machine – a Quickshifter function. The latter makes for clutchless upshifts from 2nd to 6th gear, allowing riders to keep the throttle pinned open while changing through the gears for improved control. These features can be switched on or off via an optional and newly designed Map Select Switch.
The 2024 KTM EXC-F 4-stroke range consists of the following models:
KTM 250 EXC-F – £10,449.00
KTM 350 EXC-F – £10,649.00
KTM 450 EXC-F – £10,949.00
KTM 500 EXC-F – £11,149.00
The 2024 KTM EXC range is the culmination of many years at the top end of Enduro competition, bringing together a dynamic combination of race-bred performance, ergonomics and technology, to challenge any terrain and redefine the limit.
As always, and thanks to KTM's global networks of dealers, the availability of support and parts needed to compete at the highest level is easily accessible, with the added availability of dedicated KTM PowerWear and KTM PowerParts, both of which have been designed to further increase the highest levels of performance, protection and mobility for all offroad riders and racers.
The all-new 2024 KTM EXC and EXC-F range will be available from June onwards. Contact us for more information.
APRILIA TUAREG DEMO TOUR 2023 | [UK]
Get ready to test ride and experience racing design, performance and thrills. Ready to get the fun out?
Choose a date to discover events, explore breathtaking landscapes and escape the daily routine to continue your adventure.
THE TOUR
Many days of fun
Discover an exciting tour that brings riders and enthusiasts together for several days of pure thrills. Meet other Aprilia fans, discover the latest news and dive into your passion like never before.
TUAREG 660
GET THE FUN OUT
Agile, light and performance-oriented, with a formidable instinct for adventure, on and off-road. Top-class technology and features and the dynamic qualities of a true enduro that will respond to your desire of exploration.
Also available at 35 kW, A2 driver license.
STILL UNBEATABLE, STILL UNDENIABLE
RULE THE TRACK WITH THE 2024 KTM 450 SMR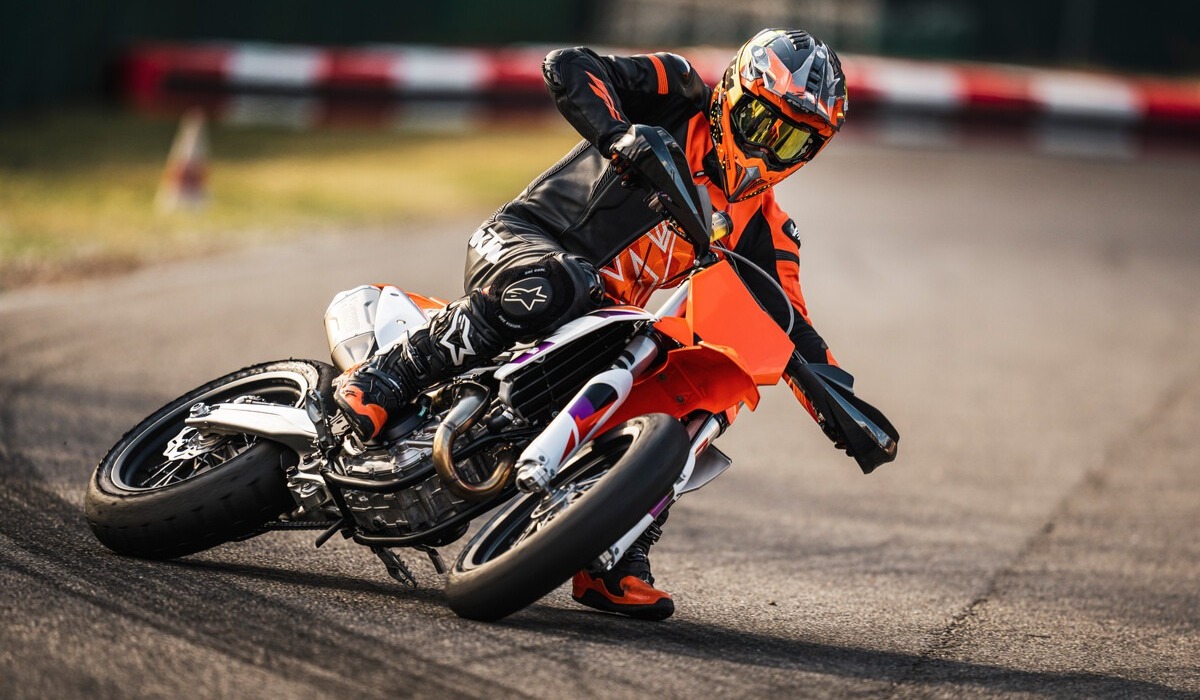 The KTM 450 SMR is the bar of reference for Supermoto. It is the only choice for riders seeking an escape from the limits of the road, for dirt bikers that want to feel an exhilarating drift on the tarmac, for those that want the ideal 'training tool' or Supermoto racers craving to lead the pack.
Austria's own Lukas Höllbacher took his KTM 450 SMR to the 2022 AMA Supermoto title and fought until the last moments for the FIM World Championship. Höllbacher's track feats and feedback rolled into the serial production version of KTM's latest and best definition of the ultimate Supermoto racer. In 2023 he will again be on the attack with the 2024 KTM 450 SMR and riders can now get their hands on the same model. The 2024 incarnation has been given a fresh new splash of color using in-mold technology for the bodywork. KTM orange, white and black create an attractive blur at speed but there is also the distinctive streak of purple, inspired by 1990 KTM bikes barreling around international racetracks.
Elsewhere, here is what makes the SMR package so competitive
Surge forwards with the 450 cc SOHC engine that fires out 63 hp, now with longer service intervals. At less than 27 kg, the powerplant is a masterpiece of power-to-weight engineering. A 44 mm Keihin throttle body brings in the fun and gauges the right response, while the SUTER slipper clutch adds another important way to modulate lap-time speed.
Ultimate handling thanks to centralisation of the motor and chassis within the hydro-formed, laser-cut and robot-welded frame. The compact construction has just the right amount of longitudinal rigidity and flex to provide superb feedback, energy absorption and straight-line stability. The reinforced aluminum subframe weighs in at 1.815 kg and was generated from computational dynamic studies: sensitivity, robustness and reliability were the parameters. The hollow, die-cast aluminum swingarm is another remarkable contributor to the 2024 KTM 450 SMR's experience along with a NEKEN aluminum handlebar and CNC machined triple clamps, which are rubber damped to reduce vibration, to put every single corner of the racetrack right into the rider's hands.
Pivot on a dime with dependable suspension – 48 mm WP XACT split front fork with AER technology for progressive and consistent damping, especially in the last 40 mm of travel. Count on quick access click adjusters for compression and rebound. The WP XACT shock is small, light, and fixed with the frame geometry for better ground clearance of the linkage system. The XACT unit is one of the most advanced pieces of hardware to emerge from the WP Suspension factory lines. Like the fork, the shock's compression and rebound can be configured without the need for tools.
Easy life for the racer thanks to specialist features such as the electric start, the tool-less air filter for simple replacement, a performance-designed airbox, a flat and high seat with a high-grip cover, to accommodate ultimate control at any angle, and a large polythene 7.2 litre fuel tank, meaning more miles at speed. Carefully engineered footpegs with a larger surface area and revised integration into the frame; they are optimised for tarmac and the varying conditions of the terrain.
Run to the limit of the corners with heavy-duty Brembo brakes. The 4-piston radial caliper will clamp the 310 mm front disc at the smallest stroke of the lever while a single piston unit grabs the 220 mm rear disc to set off those time-saving drifts.
Maneuver the 2024 KTM 450 SMR how you want thanks to the acute 'triangle' ergonomics that focus on centralisation, putting the rider in the ideal attack position. Front end control and rear end confidence is the default 'setting' for the 2024 KTM 450 SMR, thanks to the various contact points from the carefully designed bodywork.
Own the track with a raft of special race-orientated details such as two selectable engine maps, launch control, traction control and Quickshifter, all administered by a 44 mm Keihin engine management system. LED hour meters, Fuel Injection status and a Roll Over Sensor (ROS) are included. The ROS detects the position of the bike in the event of a crash and automatically kills the engine for improved safety.
Tyre tech that won't let you down. Metzeler Racetec SM K1 Supermoto rubber heats up quickly and boasts a large performance scale in terms of temperature range and different states of asphalt. The tyres are fitted to lightweight, high-strength ALPINA alloy rims with CNC machined hubs.
Open your mind. The 2024 KTM 450 SMR invites riders to eat the chrono and question their own capabilities. READY TO RACE has rarely been more acutely applied to any KTM model. This year there won't be any excuses.
2024 KTM 450 SMR Technical Highlights
// Purposeful orange, black, white and purple race trim livery with black coated frame and menacing black wheels
// 63 hp SOHC engine weighing less than 27 kg and prioritising centralisation thanks to altered positioning in the frame. Engine position equates to easy servicing
// Two engine map options, launch control, traction control and Quickshifter as well as SUTER slipper clutch for maximum control
// Compact, light and innovative chassis for the best feeling, traction and handling
// First class WP XACT fork with AER technology and XACT shock: small, condensed and fully adjustable hardware to quickly refine track set-up
// High-quality Brembo brakes with 4-piston radially mounted caliper and 310 mm front and 220 mm rear discs for potent stopping power
// READY TO RACE details for a pure track-based machine: 16.5/17" wheels, Metzeler tyres, ODI lock-on grips, tool-less air filter access, light and optimised footpegs
// Unbeatable ergonomics that place all the stability and poise of the 2024 KTM 450 SMR at the rider's fingertips for both front end grip and rear end confidence